Shalini Juneja; founder of Being Alive is a Motivational Speaker, Business Consultant, Corporate Trainer, and a Life Coach.
She's passionate about empowering people to live a powerful life that they had always dreamt of.
Her way of dealing with people inspires individuals to realize their true potential. And chuck off anything that comes their way, may it be an obstacle, some fear from past, a failure, or any personal barrier.
You name it and she will take it out of you. To provide an empty canvas for you, where you can re-paint your life.
She will work on you, with you and for you.
Happy clients have given a constant feedback about her, that she coaches people to be effective in their personal and professional life, two very important areas in a person's life.
More so she has an experience of 18 years in the education and training sector.
You will probably be not a different kind of individual. She has dealt with many kinds of people. Interestingly – many like you as well !!
You are just a different skin, name and face for her.
This is what she is made for. And she realized it long back.
She wants to spread her message to the World – "If you believe in yourself, and are willing to come out of your comfort zone, discover your unhealthy patterns and go beyond your barriers, you can accomplish just anything in the world."
She believes we are born to live an extraordinary life.
She is a great motivator and a wonderful coach who gets connected with people in a way that they get touched, moved and inspired by her thoughts and vision.
Personal Life and Career

Shalini was born and bought up in the state of Agra in a middle class family. Where big dreams were considered unreal. Where you were taught to survive and compromise with the fate of life.
Similarly she also had small dreams with no particular vision about life. After completing her education, her sole aim was to get a good job and be self dependent.
But she always had a willingness to learn new things and upgrade herself to be a better person.
She completed her post graduation in Organic Chemistry from St. Johns College, Agra. And landed her first job as a Business Counselor in 2000.
Very soon, with her sheer hard work, effective communication skills and and a desire to contribute to people, she started training the business teams.
With her strong commitment, integrity, energy, responsibility and self motivation, she kept rising in the industry of training and development.
She has many accolades named to her.
She kept climbing the ladder in her career, having worked with multiple organizations one after the other. And gained a huge experience all te while.
The turning point in her life was just round the corner.
In 2011, she came across something powerful which transformed her approach towards life. It was no less than a miracle.
Then she stood up for making a difference to people and society. She left her job as a Business Head of a reputed brand and gave a new direction to her life.
In spite of many breakdowns and hardships in the beginning, she kept going. And didnt back down even once.
Her winning attitude, self-belief, ability to learn and willingness to contribute to people, kept her emotional quotient high.
And ultimately, success did knock her door.
Testimonials
Clients About Us
Simple practical narrations and delivery style would be a perpetual guide for our students. Many Thanks!
I am very thankful to Mrs. Shalini Juneja for delivering a really enlightening session for my staff.
Thanks to Mrs. Shalini Juneja for delivering a motivational, inspiring and value-based session to the students.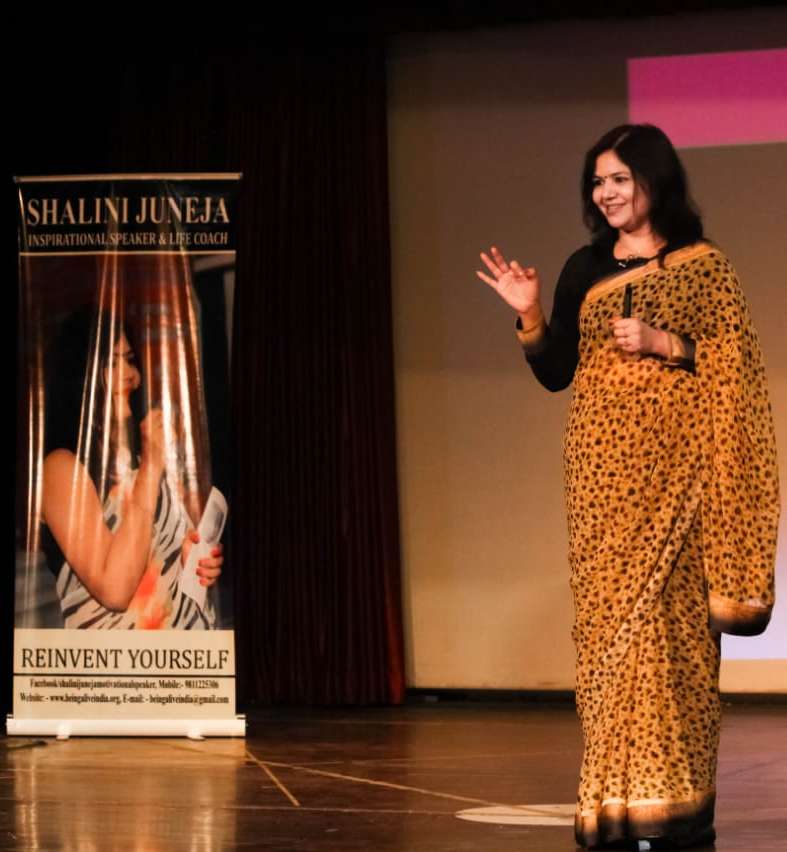 Why Do You Need A Life Coach?
To Enhance your Success Rate
To Increase the Productivity
To take the organization to the Next Level
For the Team Building
To Inspire People at Work
To Motivate team to accept New Challenges
To bring in Freshness & Energy
To Clean up the Space
To work with Integrity
To Create Oneness in the Organisation
To create a Positive Listening
To work with Authenticity